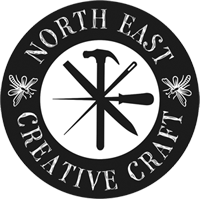 North East Creative Craft is a partnership built on a successful long term relationship between Bensham Grove Community Centre and Gateshead Council learningSkills. Both organisations are committed to developing creativity in everyone.
Celebrating the work of traditional and contemporary craft students, tutors, makers and sellers; North East Creative Craft brings together inspirational places, people and learning opportunities with this exciting new development.
From its home at Bensham Grove, it reaches out to a growing range of community venues, offering workshops; from pottery to textiles, stained glass to silver-smithing, events, exhibitions and marketing; aiming to focus all that is wonderful and exciting in North East Creative Craft.
From first steps beginners to emerging artists and statement makers, North East Creative Craft is absolutely the place to be!