Bensham Grove offers a warm, welcoming and unique environment for company events and meetings.
There are three newly-restored 'Arts and Crafts' rooms to choose from, offering scope for everything from small meetings to larger conferences for up to 25 people.
The Dining Room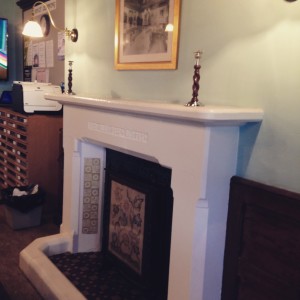 This is the room which mostly portrays its Arts and Crafts background. Influenced by friends of the Spence Watsons such as William Morris, Myles Birket Foster and William Bell Scott, to name just a few, the room is full of period features. A glossy wooden ceiling surrounded by little tiles is an imposing presence, Morris, Marshall and Faulkner tiles adorn the fire-place, and beautiful lady musicians depicted in stained-glass glow in the light of the windows. At the time this was still a 'gentleman's room' where the men would sit smoking cigars and pipes whilst discussing politics, art and music, hence the subtle colours of the room. The rich blue curtains have been made and embroidered by the needlework volunteers.
The Sitting Room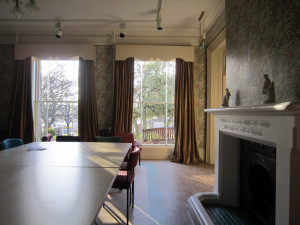 A large bright room which would have been used mainly by the ladies and where afternoon tea would have been served to visitors such as Fridtjof Nansen the explorer, who played love songs on the piano to his wife. William Morris wallpaper helps to create a light atmosphere and complements the garden beyond the windows. The original long windows dating circa 1850 when the extension was built, would have at one time looked right over to Ravensworth. Considerable restoration has been done to the ceiling. New glass panels over the interior door take their inspiration from the original stained-glass portrait in the garden door. Glass, curtains and copper door plates were all made by volunteers.
The Library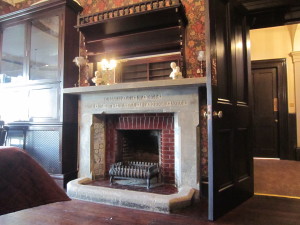 Glowing like a jewel with its rich wall-paper, mahogany-coloured shelves, and sumptuous curtains, the library is situated in the oldest part of the house resulting in its use as a friendly meeting place from the early 1800s to the present day. Morris, Marshall and Faulkner tiles in the fireplace, together with various Victorian inscriptions, point to additions circa the 1870s. This is a cosy room and holds memories of earnest discussions and tranquil reading and poetry sessions. The 'what-not' on the mantle-piece is an exact copy of the lost original and the beautiful curtains were made by the needlework volunteers.
Rooms can be booked individually or altogether. The grounds can also provide a pleasant environment for breaks in the summer months.
Room hire includes coffee/tea. Buffet and light lunches available on request, or feel free to use your own caterer.
Room Hire Prices
Please contact us directly on 0191 433 6450 or email us for prices.
PLEASE NOTE: Room availability will vary according to term time dates.